Tinky Winky, Dipsy, Laa-Laa and Po from
The Teletubbies
are returning to television After over ten years of not being broadcasted since the last episode in January 5, 2001. The BBC (British Broadcasting Corporation) announced (
HERE
) that
The Teletubbies
are going to comeback thanks to 60 new, never before seen episodes of the series.
The series will be filmed on a replica set - instead of its original location in Warwickshire - and "enhanced by CGI" to give it a more "contemporary look"
Hmm, I don't know how to feel about this, but it is a new generation of children going to be watching the show, I on the other hand will probably watch the new episode just to bring back childhood memories.
Darrall Macqueen executive producer Maddy Darrall said: "To work on the new evolution of Teletubbies is like being handed the television crown jewels.
"Teletubbies changed the landscape of children's television and remains a much-loved pre-school series.
Yes it did. No new episodes as of yet, but CBeebies is currently doing reruns of the old episodes from the show, no new updates for when
The Teletubbies
new episodes will be aired.
The Teletubbies
ran for 365 episodes for four years, from March 1997 to January 2001 and became a worldwide phenomenon.
But Wait!! More amazing news....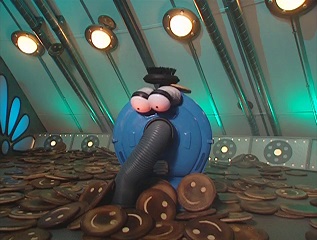 Noo-Noo is back as well!!!